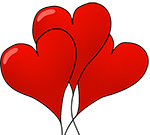 Valentine's Day is coming soon – make it a special one!  Order your Singing Valentine now.  Click Here to Order.
Founded in 2014, North Front Sound is a men's chorus dedicated to making great music and having a fantastic time doing it.  Our main focus is on barbershop arrangements and traditions, but we love all music and you can find us singing any number of men's choral pieces.
We meet in Kaysville, Utah and draw chorus members from the south end of the Salt Lake Valley up to Logan.
Come check us out.
****North Front Sound is a participant in the Amazon Services LLC Associates Program, an affiliate advertising program designed to provide a means for sites to earn advertising fees by advertising and linking to Amazon.com****
Click this link to Amazon
.